Brenda Aristy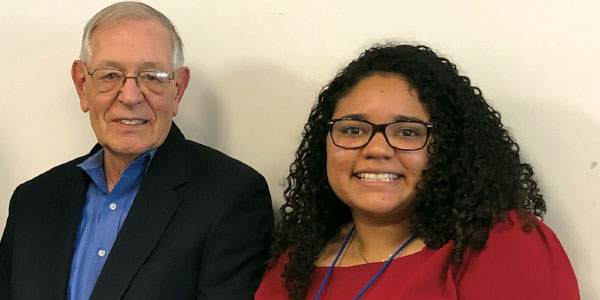 BRENDA ARISTY, CLASS OF 2021
MAJOR: POLITICAL SCIENCE WITH AN INTERNATIONAL CONCENTRATION
MINOR: SPANISH
IMPACTED BY THE DR. DONALD F. AND JUDITH MAYER INTERNATIONAL EDUCATION FUND
Junior Brenda Aristy expanded her career goals after spending a week in Washington D.C. attending the Model Organization of American States last year. The political science major and fellow student Isaac Dietrich studied hard to represent their assigned country, Argentina, as diplomats in a mock general assembly with students from Canada, Central America, and South America.
"I've always wanted to be an international human rights lawyer, particularly focused on immigration," she said, adding that her parents immigrated from the Dominican Republic as teenagers. "After my week pretending to be a diplomat, I realized that they can impact whole countries, not just individuals." Brenda now plans to pursue a master's degree in international law.
Brenda was able to attend this career-altering event thanks to an award from the Dr. Donald F. and Judith Mayer International Education Fund. The couple established the fund to enrich international academic experiences for both undergraduate and graduate students in the Political Science Department at Shippensburg University. Don served on the department faculty for 36 years before retiring in 2005. He also taught and coordinated the Master of Public Administration program at the U.S. Army War College. Judith, who received her Master of Education in Reading from Shippensburg, is a retired teacher, having taught for 28 years, primarily at the Kindergarten level in the Chambersburg Area School District.