David Brantley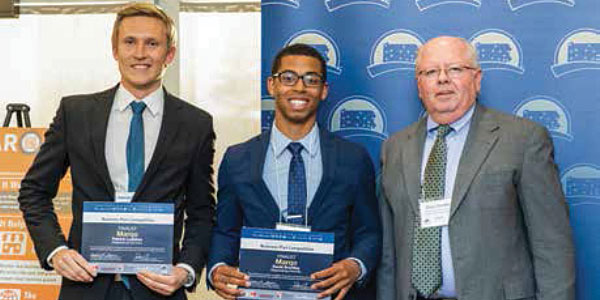 DAVID BRANTLEY , CLASS OF 2019
MAJOR: MANAGEMENT AND MARKETING
IMPACTED BY THE DILLER CENTER FOR ENTREPRENEURIAL LEADERSHIP AND INNOVATION
David Brantley '19 has always had business ideas but was never in a position to advance them. That changed when he came to Shippensburg on a track and field scholarship.
David discovered the many resources at Ship for young entrepreneurs and used them to develop prize-winning business plans. One such resource is The Charles H. Diller Jr. Center for Entrepreneurial Leadership and Innovation. Dr. Tom Morgan, director of the center, said, "The Diller Center encourages the campus community to pursue entrepreneurial careers and provides access and opportunities to cooperate in entrepreneurial projects."
The Diller Center also supports speakers, workshops, and student competitions. David entered the ShipTank competition, which replicates ABC's Shark Tank, providing students with a forum to pitch their ideas. in the fall of 2018, David took home the first place prize of $300 for his indoor dog park idea called Play-9.
Last spring, David submitted a team project to the Pennsylvania's State System of Higher Education Business Plan Competition with teammates Alec Stimson and Patrick Luebben, also Ship marketing majors. Their business plan titled Marqo took the third place prize of $2,500, competing against nearly 200 students from across all fourteen State System schools. The team will use the funds to develop their idea for an app-driven customer loyalty program for local businesses. "I don't know if students realize all the resources at Shippensburg for helping develop a business plan," David said. "Faculty and administration are very supportive. It helps to talk with people with knowledge and experience beyond your own. Often the best ideas come from those outside the project."
David aspires to become a successful entrepreneur. "And when I do, I plan to give back to the university so that others can be helped like I was."