Rhiannon Leonard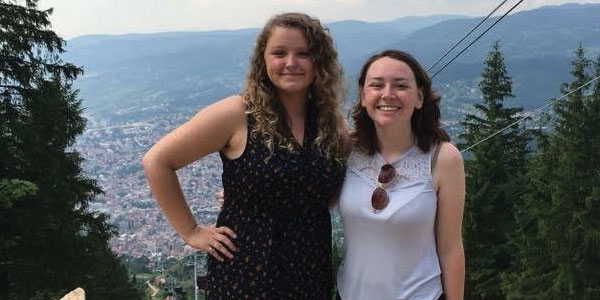 RHIANNON LEONARD, CLASS OF 2019
MAJOR: CRIMINAL JUSTICE
MINOR: SPANISH
IMPACTED BY THE FOLLOWING SCHOLARSHIPS: Tom Austin and Donna Hale Criminal Justice Scholarship , John A. Pringle Criminal Justice Scholarship , Shippensburg University Foundation Scholarship , Jack and Margaret Lemmon Scholarship
If it weren't for the four scholarships Rhiannon Leonard of Maryland received to study criminal justice at Shippensburg, attending college would have been financially unattainable. This first-generation college student dreamed of attending a college with an accredited criminal justice program and ample study abroad opportunities. As she completed her final year at Shippensburg, this Honors student gratefully pursued every advantage offered at her dream college.
Rhiannon's first study abroad experience was through the PASSHE Summer Honors program where she joined students from each of the System universities on a three-week trip to Vienna, Austria, and Sarajevo, Bosnia-Herzegovina.
On her second trip abroad, she traveled with eight Ship students and three faculty members to the Dominican Republic to assist children in an underfunded elementary school. A Spanish minor, Rhiannon describes her time in the Dominican Republic as "a beautiful and incredibly humbling experience that I'm grateful to have had."
This past fall, Rhiannon represented Shippensburg at the National Honors Conference in New Orleans where she presented her research on the effectiveness of Safe Haven Legislation. The good news is the data shows this legislation is a functional deterrent to infanticide and neonaticide.
The good news for Rhiannon is that she will be taking all of these experiences with her as she begins a full-time position with the Department of Justice in Winchester, Virginia, where she interned as a student.