Renee Sahli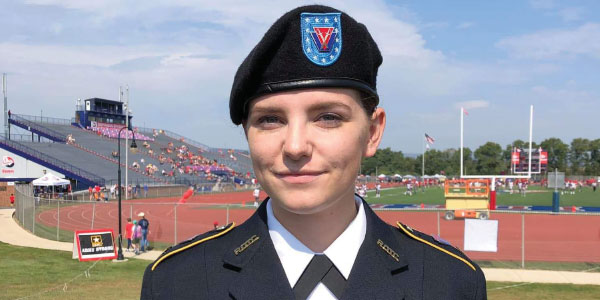 RENEE SAHLI , CLASS OF 2022
MAJOR: BIOLOGY
MINOR: GERMAN STUDIES
IMPACTED BY THE MAJ. GENERAL CARL H. MCNAIR SCHOLARSHIP
Scholarship support can change the course of a student's life.
Sophomore Renee Sahli dreamed of becoming an officer with the military. She was raised on military bases as both parents served in the US Army. Born in Texas, she has lived in Germany since she was five years old.
Her dream of a military career was derailed when she was prevented from entering the US Air Force Academy because of a false positive for an autoimmune disease. One phone call from Shippensburg's Department of Military Science Chair LTC Christopher Morton changed that. Renee accepted his offer of a three-year ROTC scholarship and enrolled at Shippensburg through the Reserve Officers Training Corps.
With her family half a world away, Renee needed additional financial support. She received the Major General Carl H. McNair Scholarship for ROTC students. "I am so thankful for this scholarship," Renee said. "It's helped me pay for student housing and living expenses."
Renee plans to use her biology degree in the Army's chemical or engineering corps. "I've always been fascinated with nature and considered becoming a veterinarian," she revealed. Her campus activities reflect this interest. She is team captain of the Equestrian Club, treasurer of the SU Animal Alliance, and volunteer at the campus farm.