Luke Hershey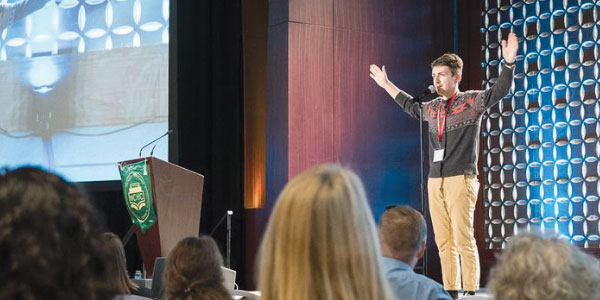 LUKE HERSHEY, CLASS OF 2021
MAJOR: ENGLISH SECONDARY EDUCATION
IMPACTED BY THE RICHARD AND PHYLLIS J. MARSHALL SCHOLARSHIP
Growing up ten minutes from the Shippensburg University campus, Luke Hershey '21 had every intention of going to college far from home. In fact, he spent his first college semester at Belmont University in Nashville, Tennessee.
Realizing that if he continued on this course, he would be $100,000 in debt at graduation, Luke moved back home to rethink his educational goals. That's when a friend from high school and Ship Honors graduate, convinced him to apply to the Wood Honors College. Now a junior with an English-Secondary Education major, Luke has a new perspective on Shippensburg.
"Being a member of the Honors College has reframed the way I see my hometown. I thought I'd seen all that Shippensburg had to offer," Luke said. "The Honors College opened my horizons to see it's really a gateway to anywhere."
Through the Wood Honors College, Luke has traveled to national honors conferences and to Pennsylvania's State System of Higher Education (PASSHE) honors conference. "Exchanging information with other Honors students confirmed that Dr. (Kim) Klein has developed the best, or at least one of the best, programs in the PASSHE system," he said.
Luke plans a career teaching English in inner city schools.