Rachael Rudis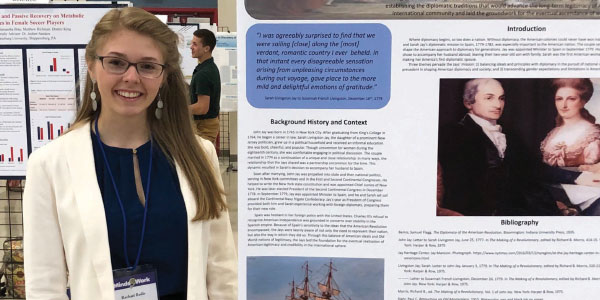 RACHAEL RUDIS, CLASS OF 2020
MAJOR: HISTORY/SOCIAL STUDIES CERTIFICATION
MINOR: POLITICAL SCIENCE
IMPACTED BY THE ERNA WRIGHT BERKHEIMER SCHOLARSHIP
Senior Rachael Rudis, of Lancaster, always knew she wanted to teach. She came to Shippensburg as a history education major to pursue a career in secondary education. Her experiences through the Wood Honors College have reshaped her goals.
"One of the Honors history professors, James Greenburg, pulled me aside and asked if I ever considered attaining a PhD," she recalled. "It's something I never thought of before, but he has shown me that I am capable of more than I thought I was."
Greenburg was her faculty sponsor for her research on John and Sarah Jay, who jointly served as diplomats to Spain during America's founding years. Not well-traveled before college, Rachael was able to present this research at the National Honors Conference in New Orleans, conduct research in New York City, and participate in the Regional Honors Conference in Boston.
She is now applying to doctoral programs to pursue a PhD in Colonial American/Revolutionary War History. "I want to combine my passion for teaching and research by becoming a college professor."
Rachael is already influencing young students as a mentor to an Honors freshman and as co-chair of Ship Trip, an Honors program that brings middle school students to Shippensburg for a mock college experience, including attending classes, lunching in the dining hall, and touring the Honors Living Learning Community.