Olivia Turner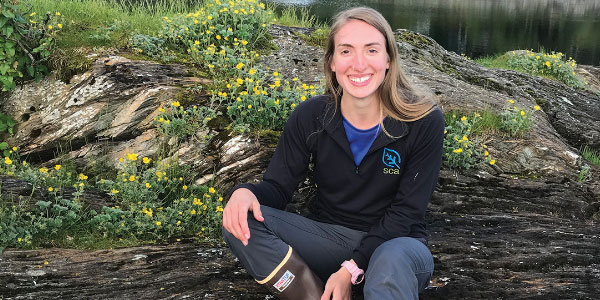 OLIVIA TURNER , CLASS OF 2019
MAJOR: BIOLOGY WITH A CONCENTRATION IN ECOLOGY AND ENVIRONMENTAL BIOLOGY
MINOR: GEOGRAPHIC INFORMATION SCIENCE
IMPACTED BY GIFTS MADE TO THE ANNUAL FUND WHICH PROVIDE JOINT UNDERGRADUATE STUDENT/FACULTY RESEARCH GRANTS
How far can an undergraduate research experience at Shippensburg take you? For Olivia Turner '19, it has already taken her to Alaska, Idaho, and Hawaii on the path to a PhD.
A student in the Wood Honors College, Olivia majored in biology with a concentration in ecology and environmental biology. She began her research experience as a sophomore. "There is flexibility and opportunity for research at Ship not available at other universities," she said, adding, "Research is essential in this field for employment and grad school."
Olivia's research focused on a Pennsylvania endangered iris species. Because her study involved both genetics and field work, she worked with three different professors, drawing on the expertise of each. The opportunity to present her research at regional conferences convinced her to continue with graduate school. "I want to continue the conversation with other scientists."
During the summers after her sophomore, junior, and senior years, Olivia continued expanding her scientific experiences. In 2017, she participated in the Honors Partners in the Parks Program at Mount Rainier National Park in Washington state. In 2018, she worked as a botany intern in the Tongass National Forest in Alaska.
After graduation, she began work as a botany intern at the Caribou-Targhee National Forest in Idaho with the highly competitive Chicago Botanic Garden Conservation and Land Management Program. Her next intern assignment was on a vegan farming community in Hawaii.
Olivia plans to enter a graduate program to earn her PhD and eventually become a research professor.