Luke Smith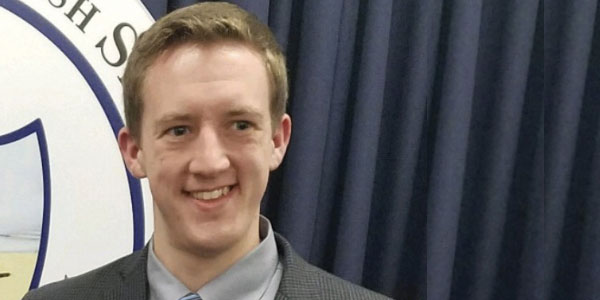 LUKE SMITH , CLASS OF 2019
MAJOR: POLITICAL SCIENCE
MINOR: ENGLISH
IMPACTED BY GIFTS MADE TO THE ANNUAL FUND WHICH PROVIDE JOINT UNDERGRADUATE STUDENT/FACULTY RESEARCH GRANTS
Conducting research with the guidance of a faculty sponsor is an invaluable part of an undergraduate student's education. It is especially gratifying when students can see the potential impact of their research.
This was the case for Lucas (Luke) Smith '19, a political science major with an English minor, whose research project was inspired by his internship with the state Department of Drug and Alcohol Programs (DDAP). Luke provided the DDAP with research on implementing telehealth services in the state, focusing on foundational policy issues with program implementation.
"I was pleased that I could offer practical, well-informed policy recommendations," Luke said. "It is incredible to think that my research may be used to influence policy-making decisions in Pennsylvania."
A Wood Honors College student, Luke began his internship with the DDAP as part of The Harrisburg Internship Semester sponsored by Pennsylvania's State System of Higher Education. He was one of nine students invited to participate in the 15-week program last year. The program provides students the opportunity to work in all areas of state government while earning a full semester's worth of credits. After Luke completed the fall internship, the DDAP invited him to continue as an intern.